Security Awareness Month Kit 2023: Ideas to Get Started!
Did you know that October has been the dedicated month for raising cybersecurity awareness since 2004? If you don't already have a security awareness program going, it's a great opportunity to start conversations in your own organization.
Do you need security awareness month ideas or just don't have the time to create a plan? We're thrilled to offer you a complete kit to jump start security awareness month, no strings attached (and no emails needed).
What's the Goal for our wizer security awareness month kit?
In line with our mission we believe that online safety is a benefit that companies can provide to their employees and as such we wanted to help you help them with their digital life at work AND at home.
This security awareness month kit is accessible to individuals and businesses of any size, with content to speak to anyone, with situations everyone can relate to. But we also wanted to make it easy enough for admins to simply copy/paste and get on with their day as we know this isn't the only hat many admins wear.
What Sort of topics Does the Kit Cover?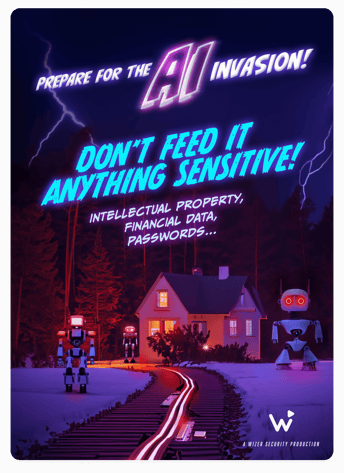 While the basics for online safety haven't changed much (20 years we're still reminding people to create a strong password!) we wanted to keep the topics around it fresh.
Week 1 jumps into AI and deep fakes - Provide employees (or friends and family) tips on how to use those tools safely as well as shine a light on the reality that is deep fake technology and the mindset we should approach it with.

Week 2 gives concrete steps to users on what to do next after a data breach or hacked email. Getting hacked is scary, but feeling lost on what to do next? That's deer-in-the-headlight level scary, but our quick, clear guides will help them have the ability to respond intelligently.

Week 3 focuses on family responsibilities for security awareness month. As each member is involved in the digital health and strength of their collective family privacy, we provide content geared to get kids and parents talking about online safety while helping the adults in the home identify the responsibilities they have to ensure everyone's digital safety.

Week 4 bridges the gap between employees and the IT/Security Team. Creating a positive security culture includes positive relations between 'the rest of the business' and the IT/Security team. This week works to build that foundation and open the conversation between employees and security professionals, because after all online security is a team sport.
Any Other Resources included?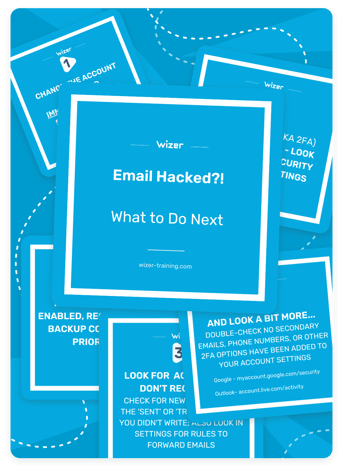 Absolutely! We've provided a variety of content resources including:
Quick Guide PDFs
Our Popular 1-Minute Videos
Interactive Quiz
Images and Posters
These resources can be shared via URL but if your company requires direct upload, you'll find those in the Resources tab of the security awareness month kit.
How to use the kit?
The Wizer Security Awareness Month Kit contains email and social media templates designed to be distributed at a cadence of 3x a week, Monday - Wednesday - Friday during the month of October. Each text comes with visual resources to reinforce the related messaging.
Using it is easy. Simply copy/paste the text you want into your email or internal comms channel on Slack/Yammer/Teams, etc and include the related resource.
Note: On the final message of the month, we provide the opportunity to include your business resources to remind employees where or how they can report phishing, access protocols, etc to keep it custom to your business needs. As such, you will need to do a quick edit of the text to include any relevant resources.
Ready to get started?
Thanks for reading this far but that's all we have to say! Take a cruise through the kit and check out the content templates and ideas to see what works for you for this year's cyber security awareness month.
not a security awareness admin?
That's great! Anyone can join in and be a security awareness ambassador - PLEASE use our cybersecurity awareness month kit to share the content with your friends or family and help spread the security awareness this October!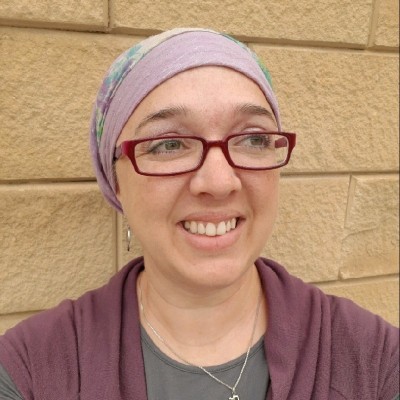 Ayelet HaShachar Penrod
An enthusiastic security awareness advocate as a result of the past two years connecting with and listening to the many passionate voices in cybersecurity as a marketer in the field - that passion rubbed off. Now I'm excited to bring my own awareness learning and perspective to help further Wizer's mission to make security awareness accessible to the individual, the small business owner, the non-profit, the enterprise organization and, well, every one.