wire fraud examples and how to avoid it
If you're tricked into wiring money to a fraudulent bank account, the bank may not be there to help you. After all, it's you who transferred the money, not the criminal.
Wire Fraud is impacting everyone, not just big business. When I say everyone, I mean anyone with a bank account, including regular people, small business and big enterprises. Each year, billions are lost to this type of fraud.
How wire fraud works explained in 1-minute
A few things you can do to avoid becoming a target
Checking the email address is always a good habit, but it's not enough. What if the vendor's email was hacked and they're sending you the email from the hacked inbox? That's why you should always call to verify the authenticity of the request. And call the number listed in your vendor management system and not the email signature, because they can also change that too.
A rule of thumb is, you must go above and beyond to verify the authenticity of any requests to change bank info, phone numbers, or even mailing addresses, for anyone, not just vendors. This includes employees, partners, or really anyone you do business with.
Even Facebook and Google were scammed out of $123M. You may think it was a sophisticated attack… but nope, the scammer sent them fake bills and they paid their "debt"…
Two Real-Life Wire Fraud Stories (Played by actors)
The following stories are real, we have dramatized them and they are played by actors to keep the identity of the victims anonymous
ALL the alarms went off, they didn't reply to the email, they called to verify but they made one small but critical mistake that cost them almost 1 million dollars… it's only human to error and some scams are really sneaky, that's why it's important to follow the process without skipping steps.
In this story she just replied to an email chain she had going on for months… It's amazing how things unfold so quickly. Big Thanks to Matt Lee, CISSP who shared this true story with me!
And Regular people are getting hit by Wire Fraud
True Story! - "I lost it all, the inheritance that was supposed to be the future for my children, peace of mind. Gone in 5 minutes." Unfortunately, this happens too often - just ask any fraud expert…
What Next?
Awareness is key! Anyone can fall for this type of scam, even the most tech savvy. That is why training is so important. So share this page with your team or signup free to Wizer Security Awareness Training and continually educate your team about current threats and how to avoid them.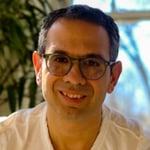 Gabriel Friedlander
I founded Wizer in early 2019 with a mission to make basic security awareness training free for everyone. Since then Wizer has been rapidly growing with over 3000 organization who signed up for our free training. And in 2020 we partnered with several local counties to offer free Citizen Training. We believe that in this day an age, security awareness should be a basic human skill.