We are constantly using suggestions and feedback to continously improve your Wizer experience. We've added some cool new features that we know you're going to love! You can find them both in the Training section of the Admin Console.


RECURRING TRAINING

In just a few clicks, you can make a training campaign recur annually for your users. Additionally, any new user added will be automatically be assigned any recurring training and will need to retake that training 1 year from the time they were added to the platform.

aWARENESS CALENDAR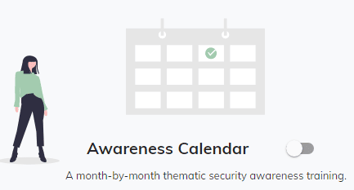 Keep users engaged in Security Awareness by having them complete short trainings each month that are specially curated based on social trends. Did you know that Bad Grammar day is in March or that February is a great time to learn that Nobody Loves You On the Internet? All you need to do to get your calendar going is turn it on! View a quick demo here.
Be sure to subscribe above so that you can be the first to know when new features are released and if you have any questions or feedback, we'd love to hear from you. Send us a quick email to community@wizer-training.com.
Looking for training on how to become a pro at using the Wizer Platform? Head over to the Wizer Academy for quick video tutorials that will optimize your experience!