Happy New Year From Wizer
Last year was an eventful year as Wizer added a ton of new content and features. Even more exciting changes in 2021!
In 2020, Wizer

This Year, Wizer Is

Working with TikTok and Instagram content creators in order to create new and even more creative videos

Launching an all-new phishing simulation tool with a calendar that offers phishing emails based on time of year. For example, January would include phishing emails that are tax-based, corporate policies, days off, etc. Best of all, Chris Roberts will be creating these templates. Text in some of the phishing emails will also be customizable!

Continuing to add new features and engaging training to make Wizer the best Security Awareness Training solution while keeping it easy to use!
Wizer is a for-profit organization, however our give back to the community business model resulted in strong word of mouth marketing that allowed us to grow fast as a business. Thank you for joining us on our mission to make online safety a basic life skill. I can't wait to talk and collaborate with you this coming year. Connect with me on LinkedIn.
Happy New Year!
Gabriel Friedlander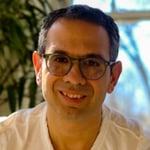 Gabriel Friedlander
I founded Wizer in early 2019 with a mission to make basic security awareness training free for everyone. Since then Wizer has been rapidly growing with over 3000 organization who signed up for our free training. And in 2020 we partnered with several local counties to offer free Citizen Training. We believe that in this day an age, security awareness should be a basic human skill.