Password Managers vs Passwordless
A few weeks ago I posts a poll on linkedIn and asked "Microsoft just went passwordless, others may follow. Will password managers become obsolete soon?" Over a 1000 people voted and 73% said NO!

It was a fun conversation. People made some great comments! Some people thought "passwordless" was just marketing hype, others thought it was a great idea and that password managers will become obsolete as soon as we're all passwordless. Or like Logan Daley commented "Like the "paperless office" were told of back in the '90s? Still waiting on that one."
The main logic most likely driving this position is that unless all vendors go passwordless there will always be a need for passwords. But regardless to whether we go passwordless or not, we still need to enable multi factor authentication.
Here is the link to the original post.You should definitely read the comments or add your own.
So after this clear verdict I had a followup question:
Which Password Manager would you recommend a friend?
Once again, many of you were quick to respond, thanks!!! I summarized all the recommendations and listed the top 6 password managers with the highest votes.
| | |
| --- | --- |
| Password Manager | Votes |
| KeePass | 10 |
| Bitwarden | 9 |
| 1Password | 6 |
| LastPass | 4 |
| Keeper | 4 |
| Dashlane | 3 |
Here are some useful comments:
"For the Enterprise: LastPass or Keeper
For the average person: Bitwarden
For the ultra-nerd: KeePass" - Jorel Van Os, CISM, CEH
"KeePass
con: somewhat ancient UI,
pro: offline/non-cloud" - Marcel Wildenberg CISSP
"I have and do recommend Bitwarden. Open source and works flawlessly. It has sync options that does not store your passwords in the cloud." - Ron Craig
"...Bitwarden is open source, regularly reviewed, and can be locally hosted as well if you don't want to use their cloud. I like them so much, that I even paid the $10 yearly fee to be a premium member." - Terry Sheltra
Don't stop here... I just listed a few comments, there are many more in the original post. If you are looking for a password manager, it's definitely worth reading the original post and comments
BTW, we have NO affiliation with any password manager.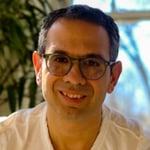 Gabriel Friedlander
I founded Wizer in early 2019 with a mission to make basic security awareness training free for everyone. Since then Wizer has been rapidly growing with over 20K+ organizations across 50 countries who use Wizer. In 2020 we partnered with several local counties to offer free Citizen Training. We believe that in this day and age, security awareness should be a basic life skill.