May 2023: New Security Awareness Content
We've been busy adding more content to our Cybersecurity Awareness Training library. In case you missed it, here are the highlights from May's latest Wizer Content both in the library and resources for you as a security awareness professional.
New Security Awareness Training Videos
Protect Yourself from Email Thread Hijacking
Do you keep your online accounts on lockdown? Awesome! 💪 But....online safety isn't just about you - it's about the people you connect with, too. Imagine if your vendors, coworkers, or friends get hacked—cyber criminals can silently creep in and eavesdrop, and worse pose as your connection to trick you into giving out info or taking action you'd never do if you didn't trust the communication.
Make sure your employees know the signs to watch for even when corresponding through existing email threads.
Real Life ChatGPT Scam
A phishing email for ChatGPT wouldn't tell you to "please refrain from entering sensitive information when using the tool", right? If it was a scam, why would they encourage good online safety behavior - except that's exactly what happened. This real-life scam imitated a work email to give it credibility but pushed users to download a browser extension as a work benefit. And that's where it goes downhill.
Help employees learn the importance of treating browser extensions like any other app and run it by IT before downloading anything.
---
On The security Awareness Blog
Phishing Template Series: May Edition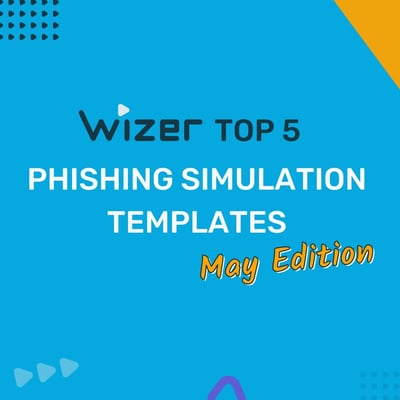 This month's Phishing Template series highlights Dodging Disruptions, Password Purgatory, Clear Out Curiosity, Renewal Rethink, Team Player.
These also can be downloaded to use as slides in a phishing training, too!
These are in addition to the full library of phishing templates we provide in our Wizer Boost Phishing Simulation.
---
Community Events for Security Awareness Professionals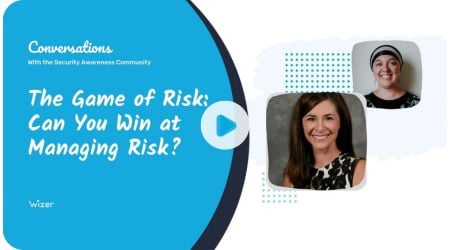 Community Live Stream: Game of Managing Human Risk
Does 'risk management' or 'knowledge transfer' best describe your security awareness program? At the end of the day, it's more than just what people know, it's what they do that matters. Our most recent livestream hosted Alexandra Panaretos who walked us through how managing human risk is different from traditional security awareness models.
Sometimes the solutions don't have to be as technology heavy as we think - effective risk management is built on listening and adjusting, sometimes even as simple as changing out a simple word.
---
Community Spotlight Pages

Missed past livestreams but don't have time to catch all the recordings or read all the recaps? We're excited to announce our Community Spotlight pages to feature our past guests and provide you quick snippets of the wisdom shared. Be sure to bookmark the page to stay on top of the great insights!
Join The Community!

We invite you to connect with other Security Awareness Managers in our open community forum with weekly and bi-monthly events:
Join our weekly virtual huddles to troubleshoot or crowd-source ideas

Hop on a live stream

with a community member to discover the insights learned from their own awareness programs.



Subscribe to Community Updates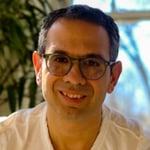 Gabriel Friedlander
I founded Wizer in early 2019 with a mission to make basic security awareness training free for everyone. Since then Wizer has been rapidly growing with over 3000 organization who signed up for our free training. And in 2020 we partnered with several local counties to offer free Citizen Training. We believe that in this day an age, security awareness should be a basic human skill.