They're here...all the things to help you in the digital world...and THIS is just January! All new videos, webinars, and more are waiting for you to share!


New videos


How Does That Make You Feel?
Scammers prey on human emotion to get people to fall for their tricks. In this video we focus on the root cause of almost any scam, our emotions and behavior.

What is Spear Phishing?
If you think it can never happen to you, think again... spear phishing is like a mind reading magic trick. Actually some mentalists use social media to find information about their "victim" before the act.
Pirated Games & Movies
It's all fun and games until you get hacked. There are so many sites that offer free movies and games and just because you have antivirus software installed, it doesn't mean you're safe.
---
Brand new webinars (on demand)

Breaking Into Cyber Security

The pros discuss what it takes to bust into the industry. What skills do you need? Do you need a degree? Don't miss out on this conversation and if you're already in the field, share with your friends that are thinking about Cyber Security as a career!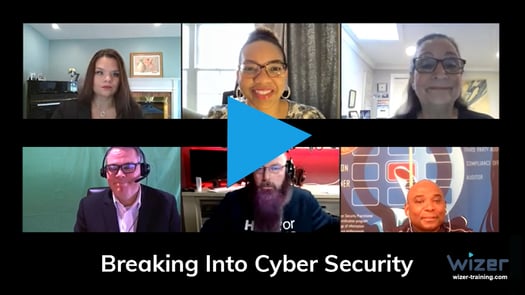 To Phish...Or Not To Phish
Should companies run phishing simulations to employees? Why or Why Not? These are the things we debated. Take a listen!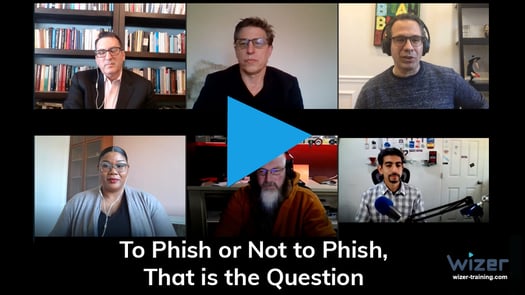 ---
Real Life Lessons

Almost Got Away With $20,000...
A REAL Story about how cyber criminals almost got away with over $20 GRAND! I simplified the story for many reasons. This was a targeted attack and they even had access to the company's email and were able to intercept the emails.

AT&T Fraud Division Scam
You WON'T read about this on the news... A friend of mine received a call from the AT&T Fraud Division. They warned him that someone tried to order 2 iPhones and send them to a different address. They offered to cancel the transaction, but they first need to verify his identity.
Tech Support Scam
Do people still fall for technical support scams?! Well, Yeah! They are victims and not stupid, it's all about the circumstances and awareness. She is smart but not technical, she got the link from someone she trusts, the website looked sketchy and she assumed her computer was infected with malware, so she called the number…
---

New greek to geek terms

New Wizernary definitions from Wizer's Hacker, Chris Roberts and even a few submissions from the Cyber Sec Community!


Juice Jacking: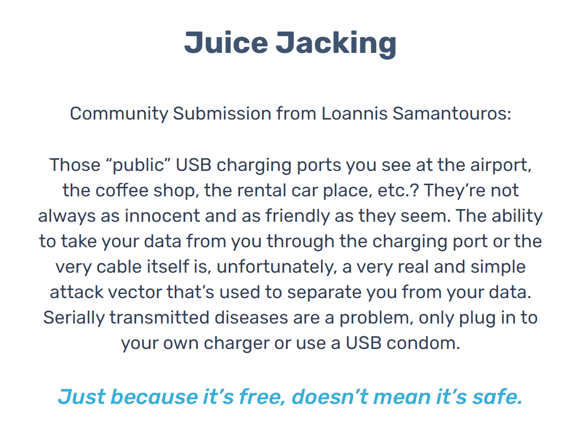 PLUS National Institute of Standards and Technology (NIST), Network Access, Network Access Control, Open Systems Interconnect (OSI), Operational Technology (OT), and Patch Management,
& over 100 MORE!

Submit a term of your own and maybe we'll feature it in the Wizernary!
---
You are 30 seconds away from having a Security Awareness Program.