New Employees Cyber Security Do's and Don'ts
XXX
---
Download this New Employees Cyber security Do's And Don'ts Cheat Sheet PDF to share with your team.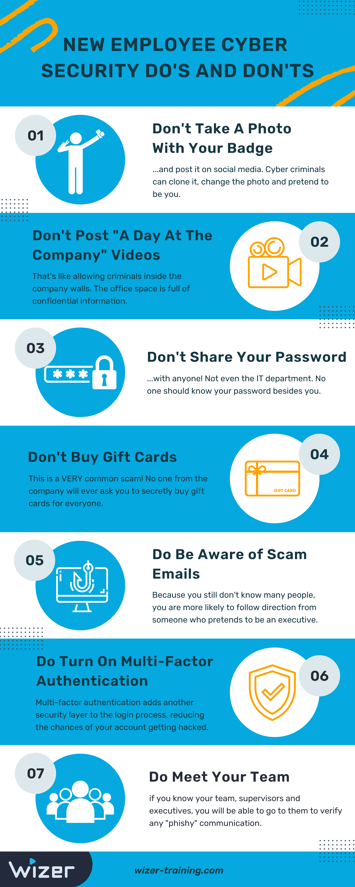 ---
XXX
1. Don't Take A Photo With Your Badge
...and post it on social media. Cyber criminals can clone it, change the photo and pretend to be you.
2. Don't Post Videos of "A Day At The Company"
The office space is full of confidential information. By recording the office, or even your desk, it's like allowing criminals inside the company walls.
3. Don't Share Your Password
...with anyone! Not even the IT department. No one should know your password besides you.
This is a common scam! Just ask XXX who lost his company XXX. Bottom line: no will ask you to secretly buy gift cards for everyone.
5. Do Be Aware of Scam Emails
Because you still don't know many people, you are more likely to follow direction from someone who pretends to be an executive.
6. Do Turn On Multi-Factor Authentication (MFA)
Multi-factor authentication, OR MFA, adds another security layer to the login process, reducing the chances of your account getting hacked.
7. Do Meet Your Team
If you know your team, supervisors and executives, you will be able to go to them to verify any "phishy" communication.
---
More Security Awareness Training Downloadable PDFs
Keep Data Secure At Work What Is Zero Trust?

---
Hear from the Experts
In this Wizer Webinar, learn how to create and implement Security Policies - the right way! - from this powerhouse panel of cyber security experts.
Why Security Awareness is Key
It's not secret that many of the incident start with a social engineering attack like phishing or spear phishing. So beyond training the IR team, it's wise to ensure employees are also training on how to avoid becoming a target. This is usually done through security awareness training and phishing simulation. Wizer Security Awareness Training offers both. We mastered the power of short stories to make security awareness training relatable and memorable. And best of all, you can start free and upgrade later.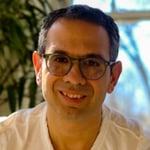 Gabriel Friedlander
I founded Wizer in early 2019 with a mission to make basic security awareness training free for everyone. Since then Wizer has been rapidly growing with over 3000 organization who signed up for our free training. And in 2020 we partnered with several local counties to offer free Citizen Training. We believe that in this day an age, security awareness should be a basic human skill.