#4: Back Up Your Digital Life
You're on fire with having those updates turned on - awesome! One more basic step in our personal security toolkit is to protect our digital data by backing it all up.
Why Backup?
Here are the top 5 reasons why to backup your data:
Hardware failure - Your computer dies, spills happen or Mother Nature just decides to surprise you with an earthquake, flood, lightning strike, etc.
You made a mistake - You deleted something by accident. Don't worry - it happens to the best of us!
Software issues - You ran an update and it killed your computer (literally).
Ransomware - You got locked out of your data by cyber criminals.
Something is compromised - Criminals hacked you through a different method and compromised your data.
The 3-2-1 Rule of Backups
The 3 - Have three copies of data for anything important. The data on your computer + two backup copies.
The 2 - Have two different media types where the backups are stored, like in the cloud and on an external device, such as an external hard drive.
The 1 - One of your backup copies needs to be completely offline in case of burglary, fire or any other physical destruction of your computer.
How To Back Up Your Computer
Did you know that Mac and Windows have free backup software built into the operating system? Here's how to access the free backup software:
On Windows
Control Panel > System and Maintenance > Backup and Restore
On Mac
System Preferences > Time Machine
There are also many paid solutions that offer even more control over your backups.
Where To Backup Your Data
It's better to buy an external hard drive (preferably two) and backup your data to these hard drives and rotate them. The reason we suggest two hard drives is because if you get hacked, you want one of them to always be offline and not connected to your computer.
How Often To Backup Your Data
You can set up Mac and Windows to continually backup your computer, but at minimum, be sure to rotate your external hard drives once a week.
Protect Your Online Data
Like many people, you probably have documents stored on Google Drive or iCloud. But it's not just documents you're storing - it's your emails, messages, photos, and more. So it's all the more important to enable multi-factor authentication (MFA) on your Google or Microsoft account as well as use unique and long passwords. (If you skipped those steps in the Citizen Guide, check out Secure Your Passwords and Turn on Multi-Factor Authentication.)
How To Backup An iPhone
The easiest way to backup your iPhone is using iCloud. Here's instructions on how to backup your iPhone.
Settings > [your name] > iCloud > iCloud Backup > Turn on iCloud Backup
Note: iCloud storage may cost an additional fee. You can also back your phone to your computer or external storage.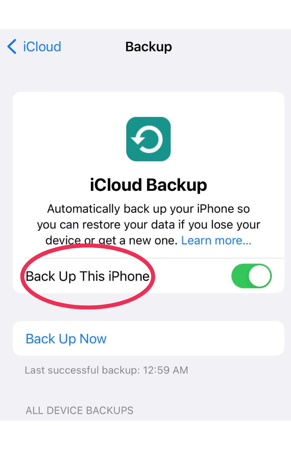 Also, don't forget to secure your iCloud account by enabling multi-factor authentication (MFA). If someone hacks your iCloud account, you risk losing your entire data and all your backups.
To turn MFA on, use this direct link for setting up multi-factor authentication on Apple iCloud > Click Two-Factor Authentication
As mentioned above, make sure you are also using a unique and long password (12 characters or more) for your iCloud account. Learn how to easily create a strong password here.
How to Backup Data on Android
Here is how you can set up your Android phone to automatically back up your files.
Settings > Google > Backup > Back Up Now
Optional: If this is your first time, turn on Backup by Google One and follow the on-screen instructions.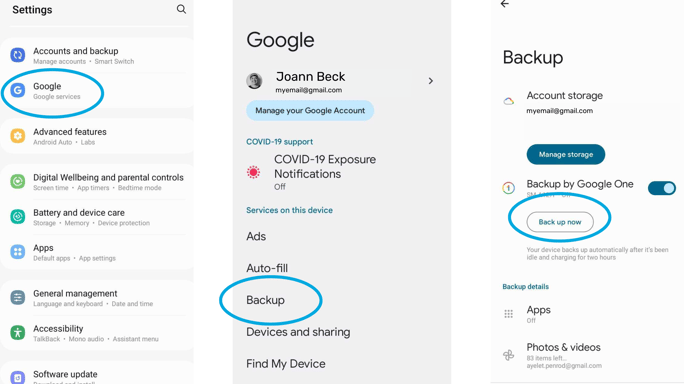 Try To Restore
Don't assume your backups are fine and working properly. Sometimes, we may think our files are backed up but in reality they aren't. The file may look like it's fine on your computer, but it's actually on the cloud and was never backed up. So, once in a while, go to your backups and try to restore an important file to make sure it is working and that you can read it.
Do You need To Encrypt Your Backups?
Have you heard about the newspaper test?
If you are not sure when to encrypt your backups, ask yourself these questions: Am I ok if this information makes it to the front page of the Wall Street Journal or a big news outlet? Am I shipping my backups elsewhere? If yes, then remember that just like packages, backups can get lost too, so you probably want to encrypt it.
Backup Your Google Data
Did you know you can export all the data Google knows about you? This includes not only emails but also contact lists, map locations, photos, and more. Go to Takeout.google.com to check it out. You can also export all this data to create a backup of what's important to you and save it locally.
However, remember that if someone hacks your account, they can also export it. So while you're there go to https://myaccount.google.com/security and turn on 2-step verification (aka 2FA or MFA) if it's not already on.
To have more control of your privacy of what Google collects and shares go to https://myaccount.google.com/data-and-privacy and start toggling off anything you don't want Google to share.
Lastly, scroll up a little and look at the "Recent Security Activity". Is there any activity you don't recognize? Activity like someone is logged in from a location you don't recognize and so on. Do this once in a while, it's good to keep tabs on what's going on with your account to keep bad people out.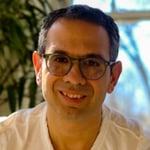 Gabriel Friedlander
I founded Wizer in early 2019 with a mission to make basic security awareness training free for everyone. Since then Wizer has been rapidly growing with over 20K+ organizations across 50 countries who use Wizer. In 2020 we partnered with several local counties to offer free Citizen Training. We believe that in this day and age, security awareness should be a basic life skill.