A Complete
LMS for Cyber Security Training
The Cybersecurity Awareness Training Management System puts the entire process of delivering, tracking, and reporting training into one easy-to-use platform.

With preconfigured annual training templates, set up an entire year's campaign in just a few minutes! We guide you through the process to ensure you cover all the necessary topics.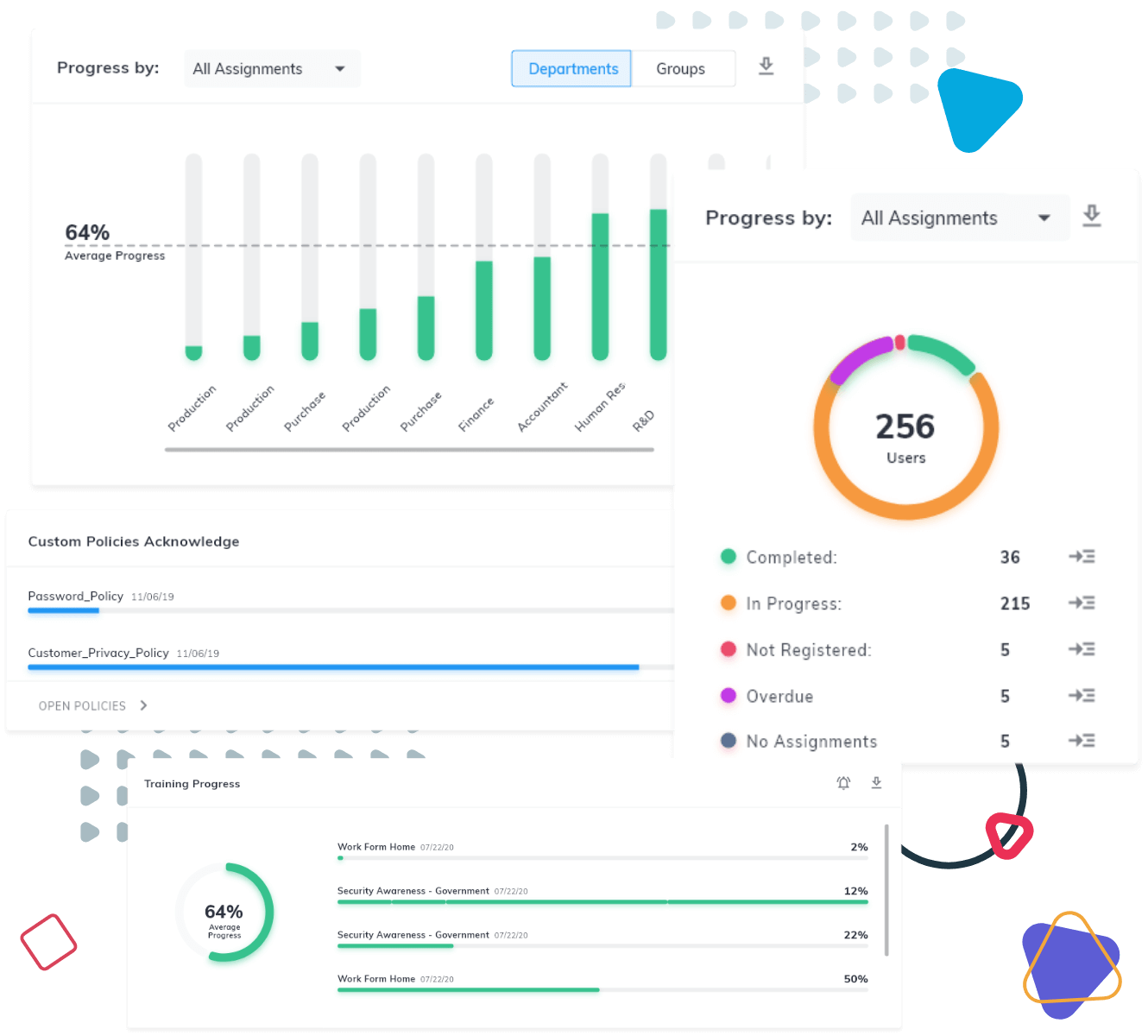 Keep track of progress easily with reporting in real-time. Know how many employees have completed training, how many are still in progress or who has yet to start.

Drill down to find top performers as well as those who need a little extra motivation. We understand you don't want to chase down the whole company to complete the training which is why we also send weekly progress reports to team managers, too.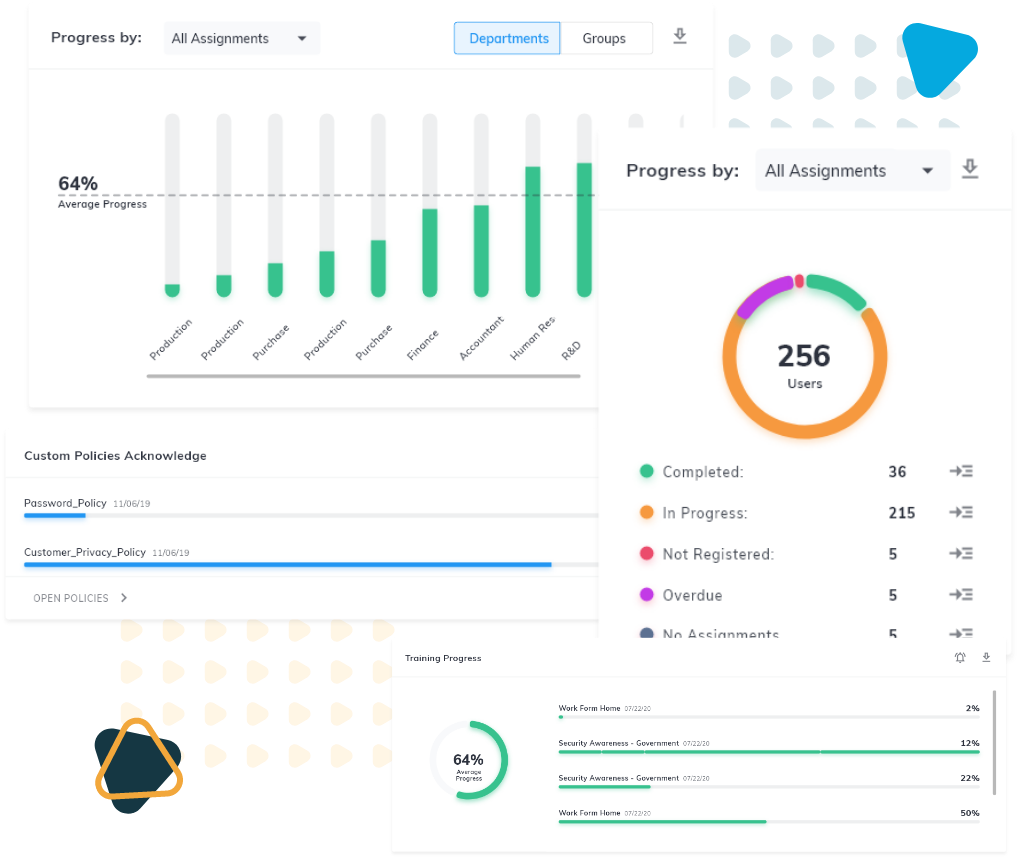 A Gamified Learner Console
Security awareness training should be viewed as a benefit and not a chore. As such, we want your employees' first impressions to 'nice!' - so we designed the learner's console to look more like a game and less like a compliance app.
We combined elements from the gaming world, like rewards and journeys, to motivate employees to not only complete trainings sooner, but to help them feel they accomplished something worthwhile.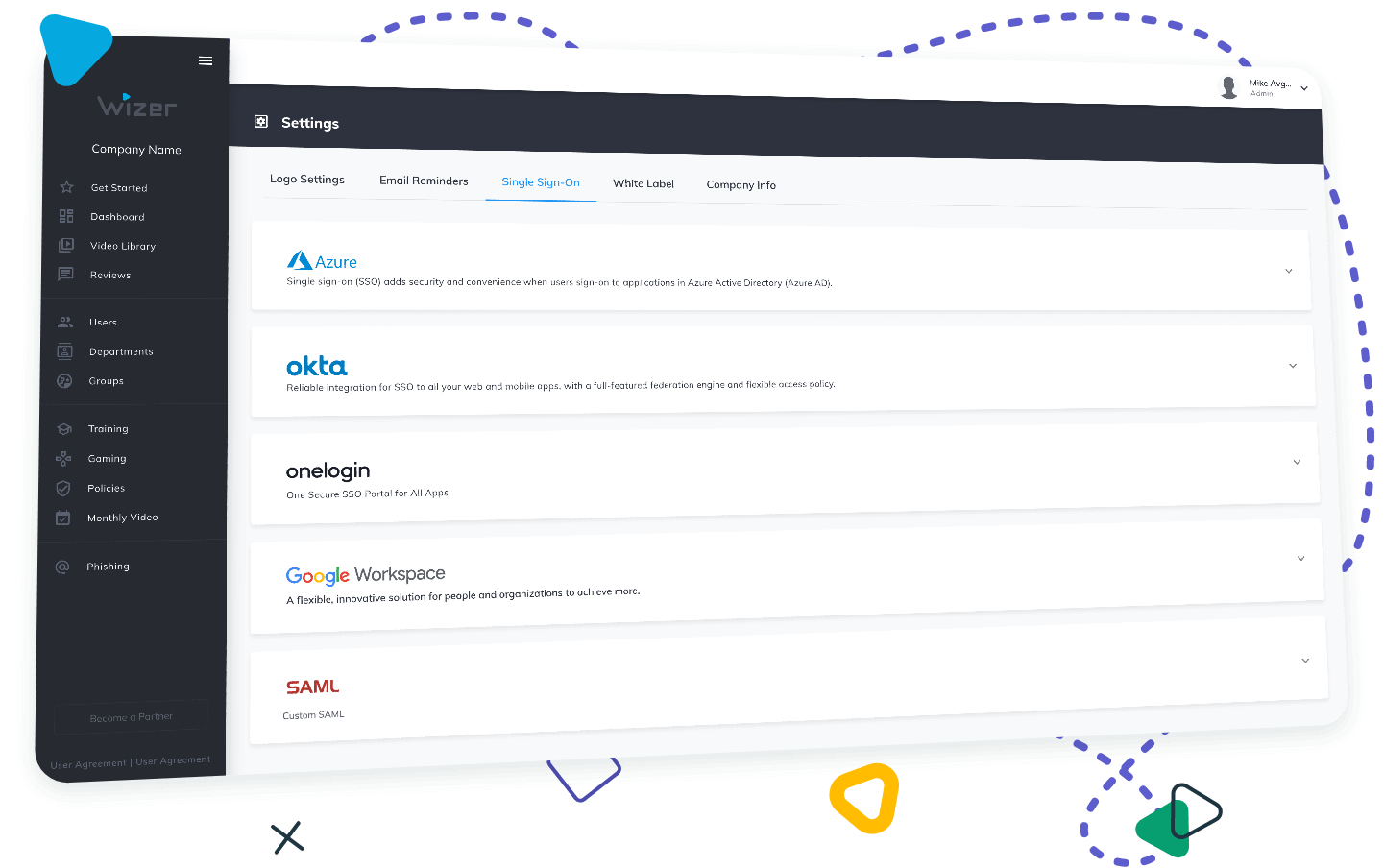 Managing and Onboarding New Employees With SSO and Provisioning
Let's be realistic, adding a new user manually isn't scalable, especially when you've already added them to your main directory. That's why Wizer integrates with multiple directories like Azure AD and Google Workspace.

With automatic provisioning we sync with your directory and enroll new employees in the cybersecurity awareness training you choose. If Single-Sign On is enabled, like Okta, OneLogin, etc., they can login with a single click.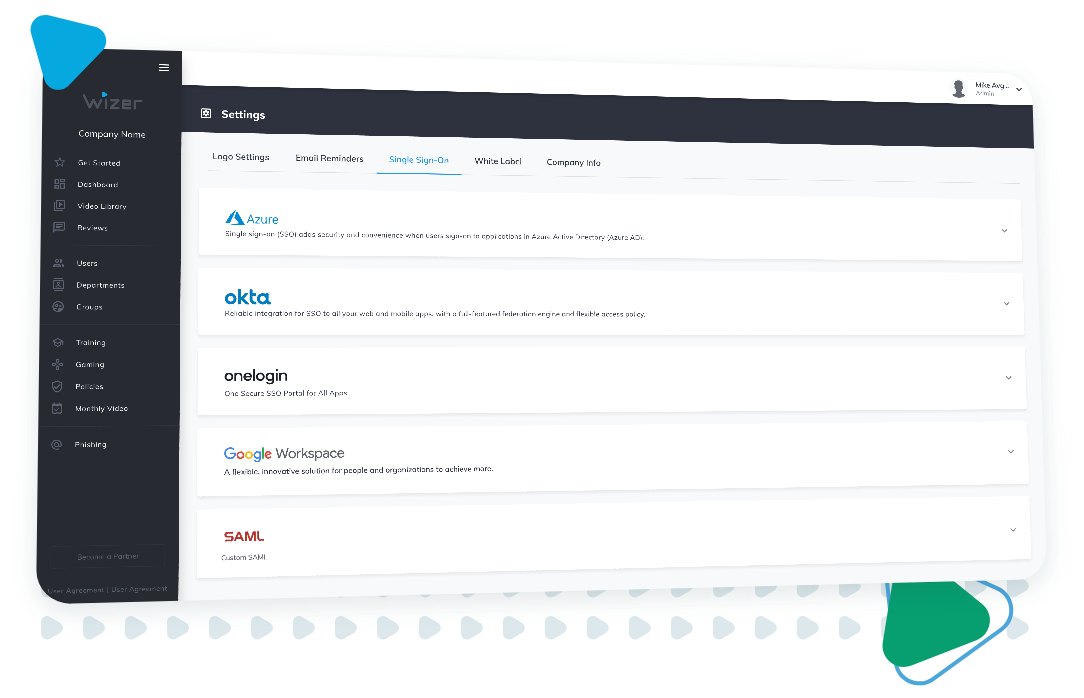 Learn More About Wizer Features
Your business already has departments and groups, there's no need to recreate them. We sync with your central directory and group users based on your organizational structure to streamline training setup.

For example, include specialized training for your finance department that focuses more on BEC scams while enrolling your dev team to learn the OWASP 10 series for developers.

Groups and departments make this a breeze.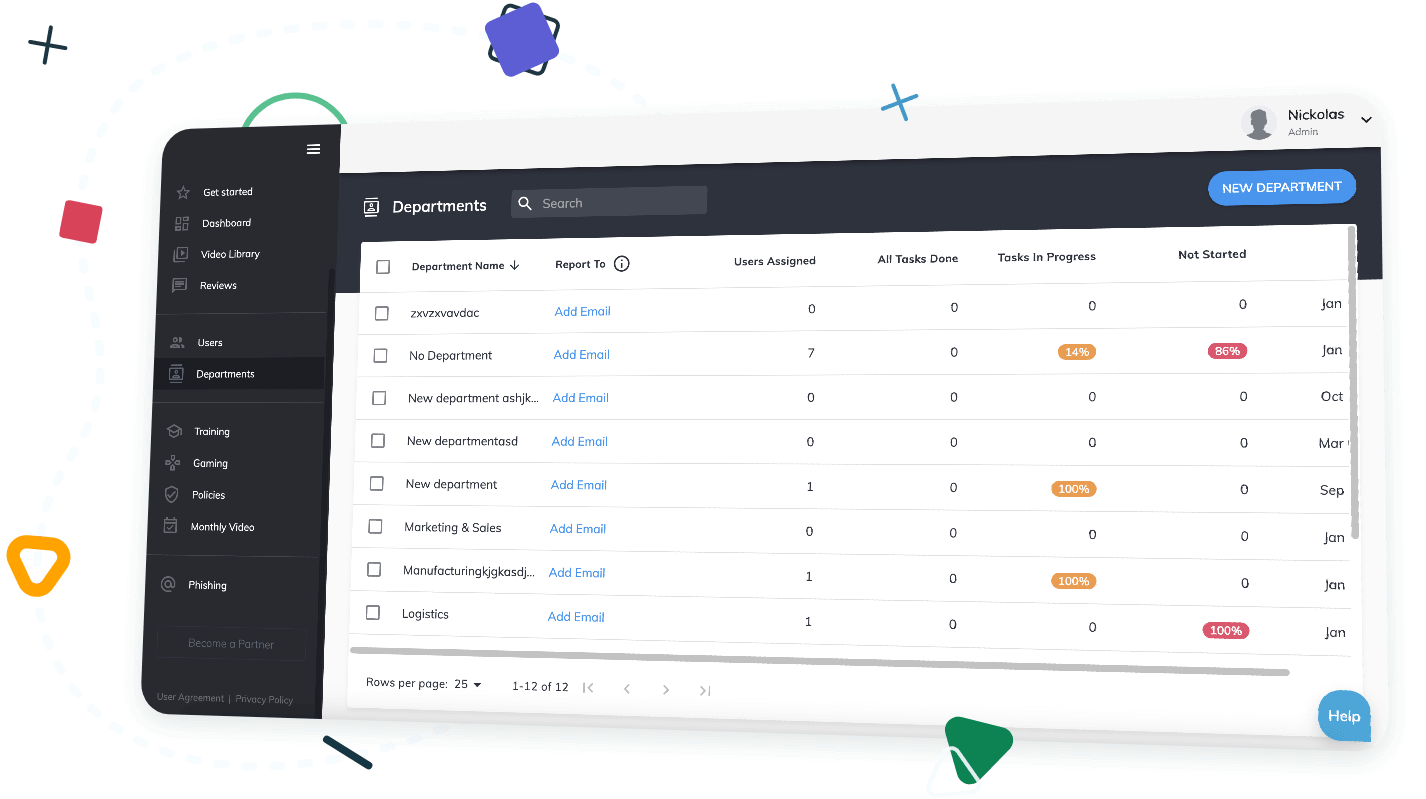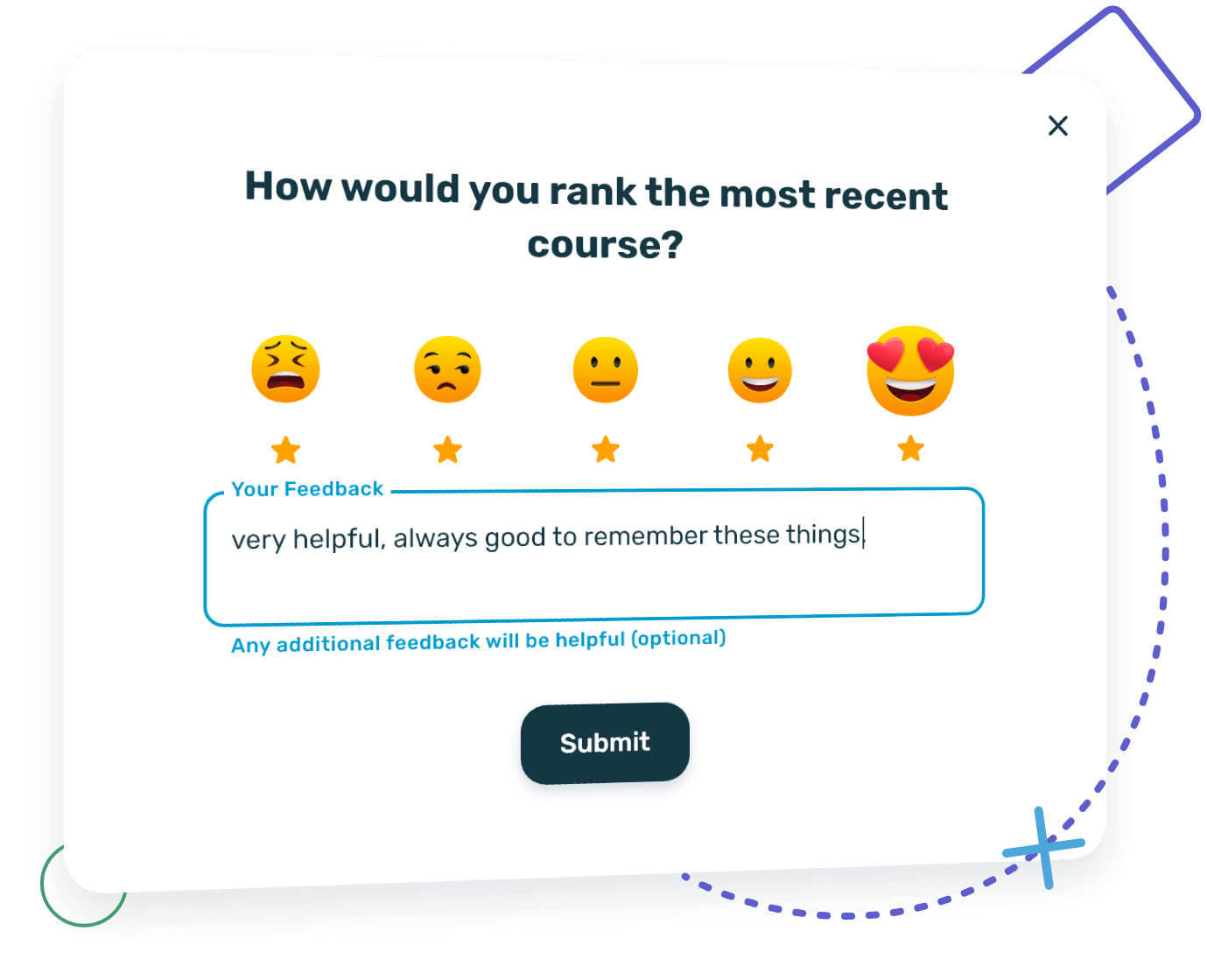 Security training shouldn't be one-way communication - the security team benefits from feedback, too. That's why it was a must for us to include the Employee Feedback feature. For each training campaign completed, employees have the option to both rate and comment on their thoughts and experience. You'll be (pleasantly) surprised how much people have to say :)

Their feedback will allow you to fine-tune your training to get a better sense of what's working and what needs improvement. So far, we've collected over 60K responses from the end-user, which we think is pretty awesome.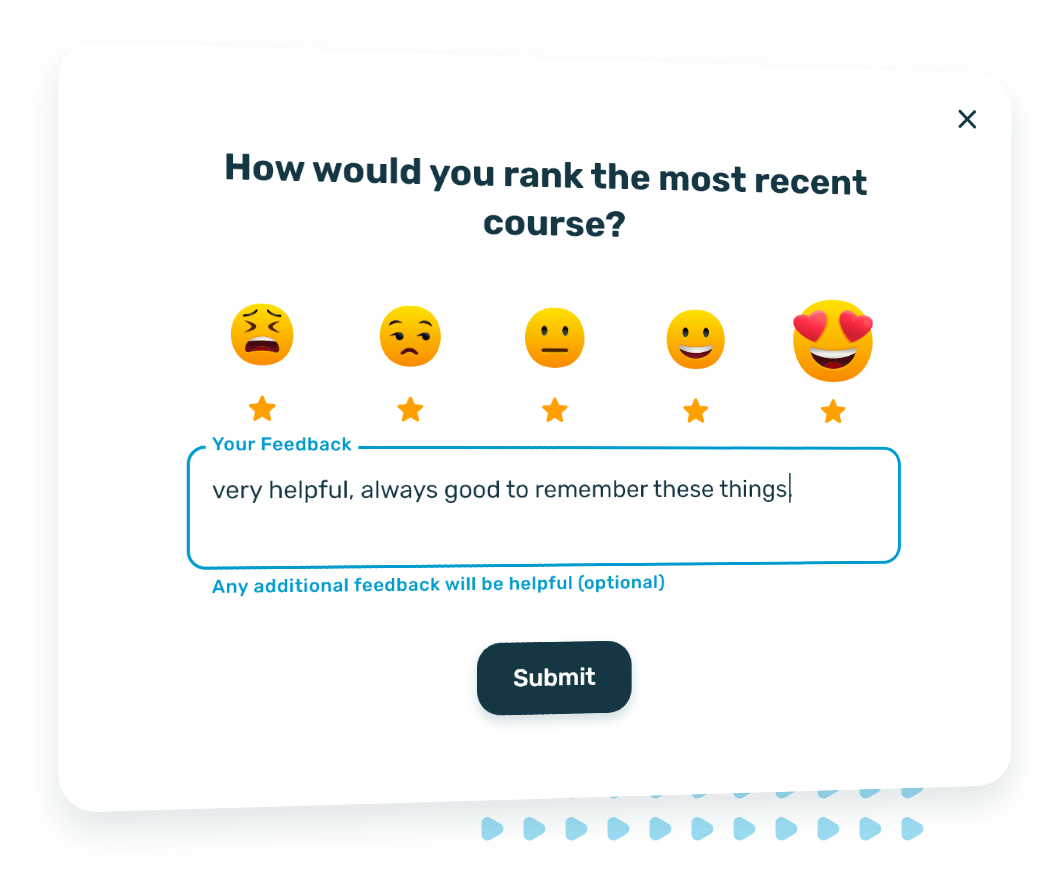 With automated emails, employees are reminded to continue their required training until it has been completed. The frequency can be customized to fit your company needs.

Additionally, employees are automatically assigned a learning path that will display in their dashboard, once active.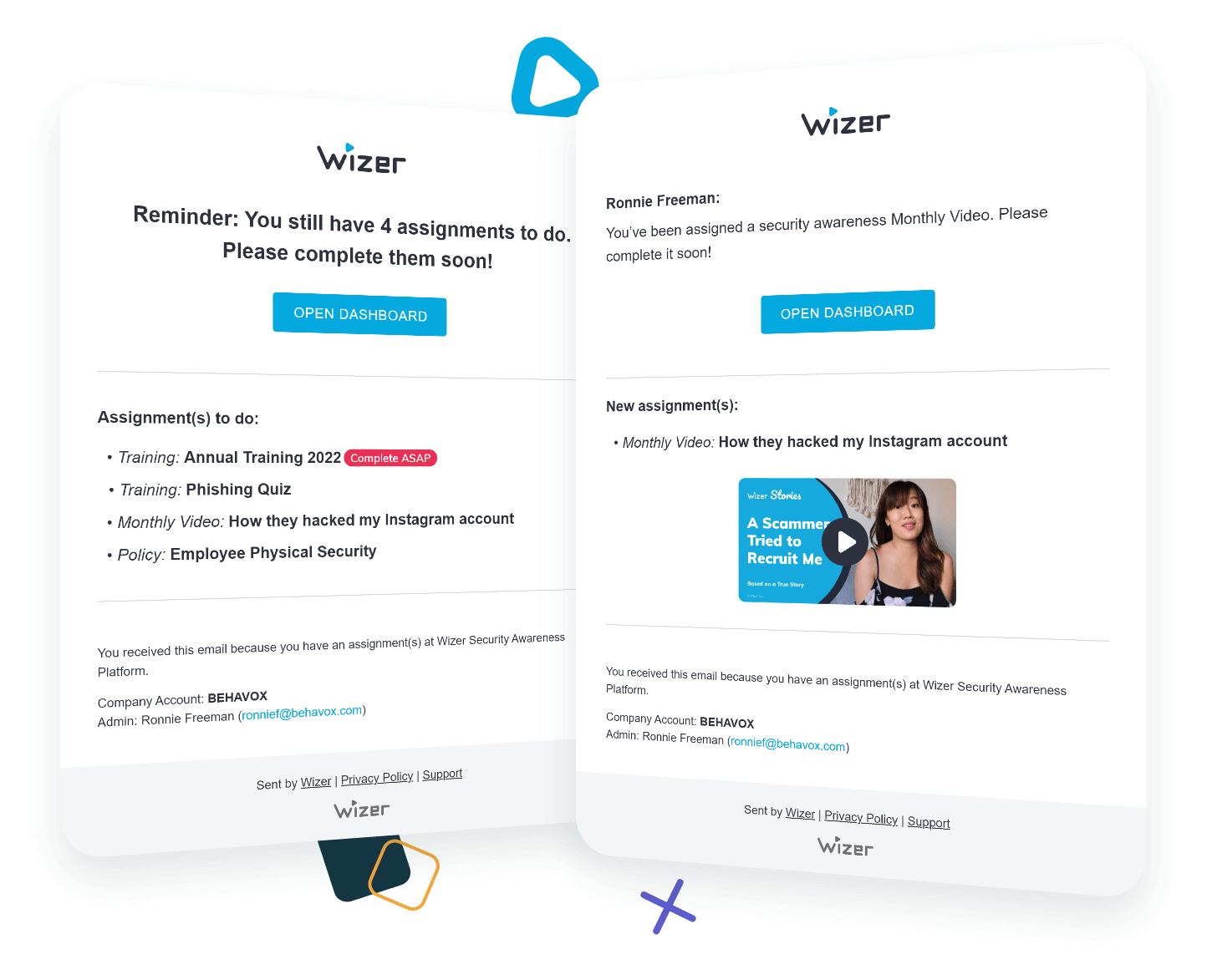 Our People Love Us
We help people #staywizer online with shareable content, short training videos, and effective phishing simulations. See for yourself how we're making a real impact on security culture at work and at home.
Frequently Asked Questions
Can I use Wizer with my own Learning Management System?
Yes! You can download our security awareness videos as SCORM Packages and import into your own LMS. Plus, it's 508 compliant. Contact Sales for more information.
Can I create my own content and upload to the Wizer LMS?
Yes! Wizer is amazing as a standalone LMS that allows you to customize your online security awareness training to your needs. As such, you may upload your own custom videos unique to your company and use the Wizer platform to add to your training campaigns.
Have more questions? Please contact us at:
support@wizer-training.com
Have more questions? Please contact us at:
affiliates@wizer-training.com