The holidays are fast approaching and shopping online has never been more popular, especially with the pandemic. Scammers are alive and well so while you're sitting around the dinner table with your loved ones, have a conversation about online shopping safety. It's a life skill.

Usually, the only time people hear about cyber security is from their company's IT department. It's always the same technical jargon that has people's eyes glazing over just waiting for the chatter to end. We're all exhausted and on information overload but our messages about safety still need to get out and it's not just about our companies.
It's personal
Start with asking what everyone's plans are for Black Friday. Transition to online scams like credit card fraud, gift card scams, fake emails, links, and coupons. The list could go on and on..

Let's make a deal
Has someone shared this amazing deal they heard about? How did they find out about it? Was it from a friend? Pop up message? Email? Share with them how to spot these red flags:
Fake email addresses
Fake websites
Grammar
Fake logos
Have them do a Google search on the website itself. If they are still not sure, Scam Advisor can help you verify a website.

Ignore the delivery emails from FedEx or UPS. Go straight to the site you made a purchase from and track the status of your packages there instead.

At the kiddie table
Give your kids center stage. Ask them to tell you what to look out for. When they talk about it, they think about it and let them teach you. Add your two cents later. While you're at it, tell a few fun stories about how people you know have gotten scammed. If you don't have one, tell the one about how a kid got a WhatsApp message from his mom stating she sent him a code by mistake and if he could send it back to her. The kid sent his mom the code and a few minutes later got locked out from his WhatsApp and all his contacts started receiving the same message but not from him.
Kids look at followers like a popularity contest. How many of those people do they actually know in real life? For example, Charli Damelio has over 100 million followers on TikTok. Statistically, the chances that some are bad people, like murderers or rapists, is high!

Do your kids know who is fake? Do they understand their photos and other information they post are being watched by creeps? Kids get kidnapped like this. This is real life. It's scary.
But we know all of this already
A lot of people feel like they know how to spot a scam and what's worse is some think it really isn't a big deal if they do get scammed. If your credit card gets breached, all you need to do these days is call your credit card company and they will reverse the charges and issue you a new card. But it's not just about your credit card. It's your personal information, your shopping habits, and now you are most likely on a scam list to get breached again! And Facebook? Chances are, every one of us has had messages go out to our friends that weren't sent by us. At this point, it's not such a big deal...or is it?

Now that you know better, do better
Everyone needs to learn about online shopping safety. Get your IT team together and create easy to understand discussions that are short, to the point, and engaging. Make your content appealing to their emotions and make it available so that they can share it with friends and family.

When discussing online safety, make sure you talk about the solutions and not just the problems. Then, people will relate and make sense of it.

Use the same message, not the same content
You need to go where the people are and meet them on their own turf. A LinkedIn video may not translate well on TikTok or Facebook. The audiences and what they are expecting are completely different. Scammers think like marketers and in order to get ahead of the game, you need to as well. Repurpose content to fit multiple platforms. It's worth the effort.

Create a viral challenge, start a movement, get cyber security ambassadors to help spread your message. There is no time like the present to get the word about online safety out. Make your content funny and appeal to emotions. Make cyber security cool again.

Reach out to influencers. These are the people that kids and adults listen to and follow all the time. Have them help spread the word!
Push back - I want to be tracked…I want to get personalized ads...
Just like the popular Netflix documentary Social Dilemma says...you are the product. People tend to think that customized ads for products they like are a great feature. However many sites sell our data. Once your data is out there, you cannot get it back and once data about you is available to scammers, you become a target.
Don't touch the stove
Uh huh! As soon as you say that, someone touches the stove. Burn and learn.

Question more, believe less. If something is emotionally charging you, take a step back before you make any decisions to click. As always, if it sounds too good to be true, then it probably is.
Moderated by
Wizer's hacker, Chris Roberts!
Panelists: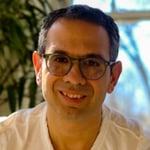 Gabriel Friedlander
I founded Wizer in early 2019 with a mission to make basic security awareness training free for everyone. Since then Wizer has been rapidly growing with over 3000 organization who signed up for our free training. And in 2020 we partnered with several local counties to offer free Citizen Training. We believe that in this day an age, security awareness should be a basic human skill.