Wizer Friends
Affiliate Program
Become a friend of Wizer Training's Affiliate Program and earn money while raising awareness of online safety.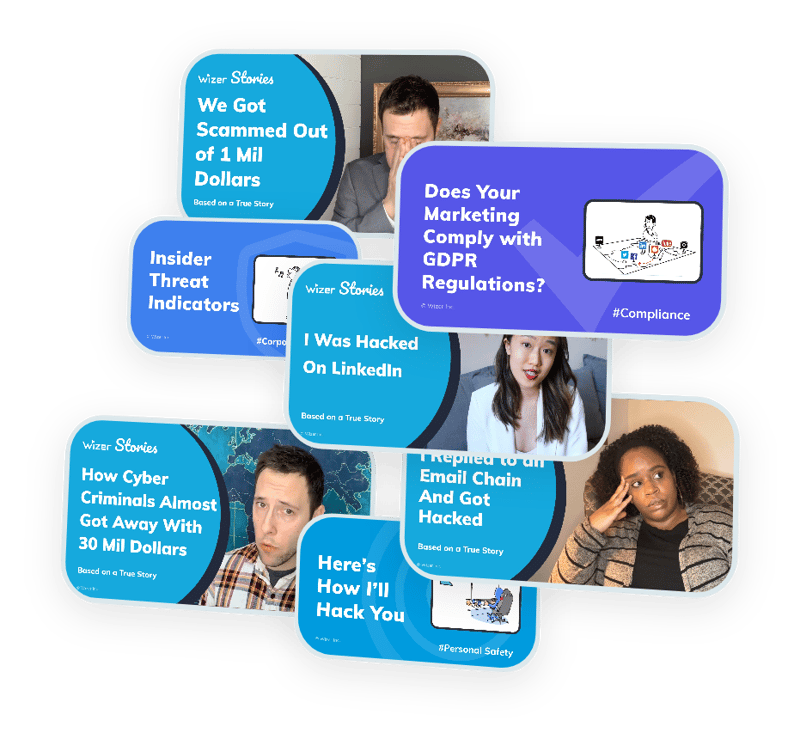 Being a Wizer Friend can take two paths...
both lead to something great!
Wizer Free
It's our belief that online safety is the new digital life skill everyone needs. Wizer's mission is to make it accessible to all.
As such, we've made our basic Annual Awareness Training free and available to any person and organization - with unlimited users.
What's more, videos are free to share with friends and family.
Wizer Boost
For businesses who want more in-depth training and reporting, there's our paid option, Wizer Boost.
It includes:
Full access to Wizer's complete video library
Compliance training (PCI DSS, GDPR, HIPAA, etc)
Specialized trainings (OWASP Top 10, DEI, and more)
Phishing simulations, Custom campaigns
Gamification, Monthly videos, and more...
There are no minimums for Wizer's Boost, making quality security awareness training available to businesses of all sizes.
"Sharing Wizer means everyone wins
(except the bad guys)"
1
Sign Up
Sign up through our affiliate platform, Rewardful, and get access to your referral link. It's easy, free and quick.
2
Recommend
Recommend Wizer in your content using your unique link - whether it's a blog, vlog, social posts, newsletters or other digital content you create.
3
Earn
Get paid 10% anytime someone you referred to Wizer upgrades to Boost!*
*ACCORDING TO QUALIFYING TERMS
If Wizer is free, how can you
make money, you ask?
Well, we'll tell ya.
Even though the free version of Wizer is amazing, many still want to upgrade to the paid Boost in order to get access to the phishing simulation, gamification, advanced trainings and more.
When they upgrade, you get paid. Easy as that.
Check our Free vs Paid comparison table to learn more about our pricing and your earning potential.
Frequently Asked Questions
What is Wizer?
Wizer is a security awareness training platform for businesses that takes the aggravation out of long, easily-forgettable video security training and replaces it with engaging, one-minute, viral videos with simple-to-follow information.
Both our short-form content of animated explainers and dramatized real-life scam stories (aka Wizer Stories) ensure employees get training that is both relevant and memorable. What you get are happier participants who are better informed and more aware, strengthening your business's overall security posture.
Learn more here.
What is the Wizer's Friends Affiliate Program?
In short, the affiliate program provides an opportunity to earn commission for customer referrals through your unique affiliate link in content such as blogs, newsletters, video podcasts or other digital content.
As a Wizer Friend affiliate, you and your business provide value to your audience while creating new opportunities to earn revenue. Regardless if they buy or not, you're also being socially responsible through spreading online awareness providing valuable and engaging content. Win/win!
Does it cost to sign up as an affiliate?
Nope! Both signing up and participating as a Wizer affiliate is at no cost to you.
Do I have to be a Wizer customer to join?
While we'd love it if you were a customer - we think our videos are great! - you are not required to be a Wizer customer in order to join the affiliate program.
I'm a consultant or agency, is this the right program for me?
Our affiliate program is for anyone who is a passionate security awareness advocate. It's best suited for regular content creators who want to link to Wizer from their content.
If you want to resell clients you're working Wizer as an offering to them, then the Wizer Partner Program is the solution you need.
What are the program limitations?
In order to receive commission, there are a couple of limitations to note:
1 - The customer cannot already be in an active sales process at the time of clicking your affiliate link.
2 - The customer must have purchased the Boost offering (of any quantity) and remain a customer for at least 30 days.
I like reading Terms of Service and Policies, where are those?
We like to keep our Terms of Service pretty simple and straightforward - read them
here
.
Have more questions? Please contact us at:
affiliates@wizer-training.com