Using LinkedIn to Raise Security Awareness - Session 1
The first of our special 3-part series learning how to use LinkedIn more effectively as a security awareness professional to reach our colleagues, executive team, and broader network with security mindset insights with the added bonus of building your professional brand at the same time.
In this first session, we focus on the basics of networking and professional branding in LinkedIn to help jumpstart your awareness campaign on the platform as an additional channel in your awareness strategy.

The Marketing Challenge

It's not a new idea to say that security awareness has a marketing challenge - but what does that mean exactly? Similar to an innovative solution whose target audience doesn't even know a solution exists to solve their problem and may not even be aware of that it's a problem, so, too, is promoting security awareness. The marketing challenge for security awareness includes, but is not limited to:
identifying the different audiences to tailor the messaging

educating users unfamiliar with your solution

nurturing the audience to take action

maintain positive user engagement
Understanding this general marketing approach can help create more effective messaging when engaging on LinkedIn.

Why LinkedIn?
LinkedIn has evolved from a boring networking site to a virtual water cooler for professionals to share information, network, and grow. As a security awareness professional, LinkedIn is a great place to reach decision-makers and coworkers with your message. It's a neutral playground and a casual way to influence and educate others.
We can use the momentum of the platform to spread the message of the many ways to stay safer online as well as raising the importance of security awareness in the overall security landscape with your employees, your executive team, and peers.
What's Personal Branding Got To Do With It?
Personal branding (aka professional branding) is important because visibility creates familiarity. As security awareness professionals, it is essential to make ourselves approachable and be the go-to person for security-related questions and concerns. By building our professional branding, we can establish a sense of connection with our colleagues and decision-makers. Optimizing our profile can help us be sure we're putting our best professional self forward.
LinkedIn has started to highlight content creators, so creating and sharing content can help grow your professional brand to give us a little boost in achieving our goal of fostering open communication. While it's not a silver bullet, committing to using LinkedIn strategically can yield returns more quickly than you might think.
Take a moment and do a spot check on these key areas in your profile:
Profile pic - Is your face easily visible? Are there distracting elements in your pic like a background or 'floating hand' from a cropped image?
Headline - Is it a generic job title or does it capture interest that sets you apart as a professional? This is the digital business card - make it count! (See below for examples)
Featured section - Are you highlighting your work? Is it current?
Creator Mode - Turn it ON (if you commit to posting 2-3x / week)
Let's break the last 3 down a little further.
Headline
The headline is important because it is like your digital business card that follows you around on LinkedIn. It is the first thing people see, along with your profile picture and name, and it should convey the unique selling point (USP) of you as a professional.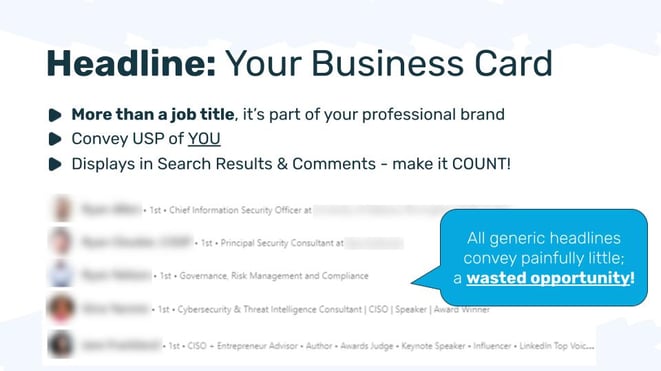 A good headline should be clear, convey your key selling point, and catch attention. It should also be specific to your industry, and the most important part should be at the beginning so it doesn't get cut off by truncation.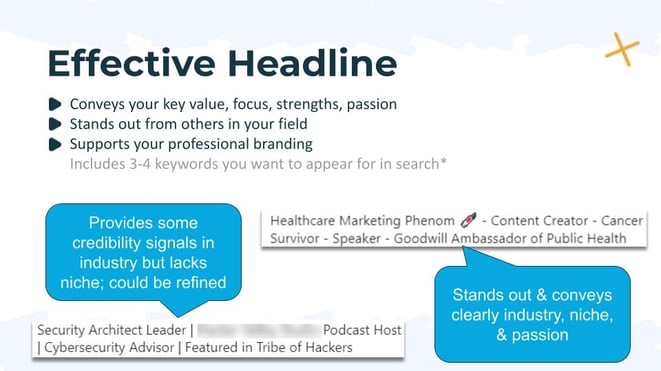 The examples given show that a good headline can tell a story and convey a lot of information about the person without ever looking at their profile. It should be unique and stand out, rather than generic and unremarkable. The best headlines include broad and niche key terms to help paint that picture. They also surprise the reader with something personal or unique, while supporting the USP.
Featured Section
This section is an additional touchpoint that supports a professional's image and can be used to highlight important content, such as an awareness piece or an interview. It can be thought of as a mini portfolio on the profile page, and the user is not limited to just posts - they can also upload or link to outside media and sources. Overall, while it is not a high priority, it is a nice addition that can quickly demonstrate key highlights of you as a professional.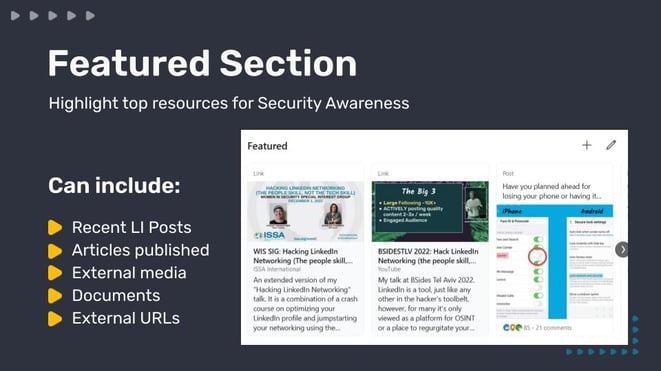 Creator Mode
LinkedIn is now emphasizing content creators and turning on Creator Mode is one way to get involved. If you haven't turned it on yet, you may be in what's called classic mode. Turning on creator mode will boost your visibility, but only if you are posting regularly to see benefits.
One added bonus of Creator Mode is that you get access to LinkedIn Live, audio events, and the ability to create newsletters. While newsletters may not have the same visibility as they used to, they're still a great option, especially for those who enjoy writing. The Follow tool is another feature of Creator Mode, where you get a code that you can place on your website or blog for people to connect and follow you if you're active outside of LinkedIn creating content.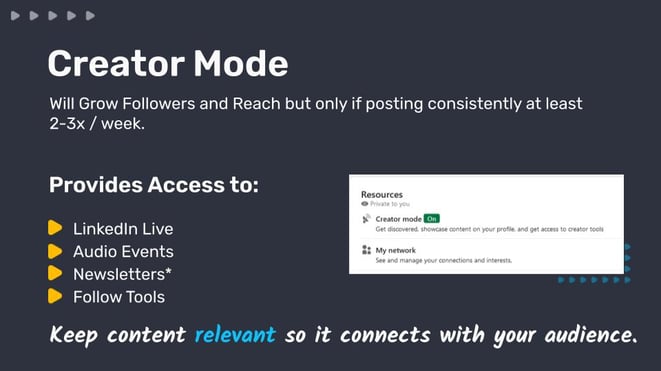 Audiences
Knowing your target audience is crucial in any project, including cyber awareness "marketing". As mentioned earlier, it is important to identify the audiences you want to target to achieve your goals. This does not mean you can only talk to one audience, but it's better to be clear and focused on one type of audience per post.

Your target audience can include various groups, such as your company's C-suite, business managers, board members, regular coworkers, small business owners, entrepreneurs, freelancers, and cyber peers. Knowing whom you are talking to will help you avoid confusing your message and ensure that it reaches the right people.
Hashtags: Choose Wisely
When it comes to using hashtags, it's important to know that they do actually help with visibility by taking into account the algorithm, but each platform has its own rules. While Instagram allows for a wall of hashtags, LinkedIn penalizes users who use too many. It seems that the current sweet spot for hashtags is between 3 and 5 but definitely keep it under 10.
Not all hashtags are created equal, so it's important to consider your audience when choosing which ones to use. For example, if you're producing security awareness content for your finance department, consider what interests them and what hashtags they follow. One mistake that cyber professionals often make is using industry-specific hashtags that their audience may not be following.
A simple example of this is content aimed at small business owners speaking about BEC attacks or insider threat. Instead of using #insiderthreat #BEC - which small businesses will likely not be following any content in that topic - consider instead #smallbusinessowner #smallbusinesstips #entreprenuer.
A good strategy is to use a mix of broad and niche hashtags. This allows for a balance of followers and focus in your post. Overall, consider your audience and choose your hashtags strategically to maximize visibility and engagement.
Pro Tip - Check with your marketing team to see if they can provide any insights on relevant hashtags your executive teams may be interested in.
LinkedIn Strategy
If you want to get your posts seen by more people on LinkedIn - which is our aim! - you need to be strategic. To use the LinkedIn algorithm to your advantage, be sure to connect with your target audience, which in our case specifically are your company's business decision-makers and regular coworkers. You don't need to connect with everyone if you work in a large organization; instead, consider key departments or regions.

To narrow down your connections, create a list of the top ten people who are active on LinkedIn and willing to engage with your content. Then, use a low-tech hack to engage with them regularly without taking up too much time (see below). This will help the LinkedIn algorithm prioritize your posts and increase visibility.

Remember not to "post and ghost." The LinkedIn algorithm prioritizes engagement, so you should engage with others in the community regularly. With the right strategy and effort, you can increase your visibility on LinkedIn and get your posts seen by more people.
Low Tech Hack For Quick Strategic Engagement
How can you engage regularly with key individuals within your organization on LinkedIn without getting lost in the feed or having to search their name every time and maximize time?
Choose the top 10 - 20 persons you want to focus on and open up each one's profile page
Scroll down to the Activity Section and click on "See All Activity"
Change the view from ALL Activity to Posts
Bookmark the Post URL and save into a folder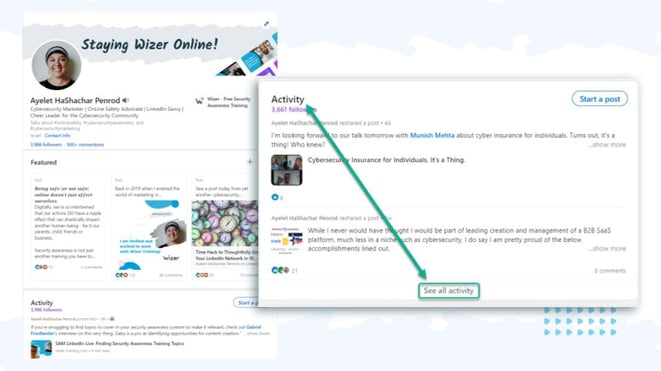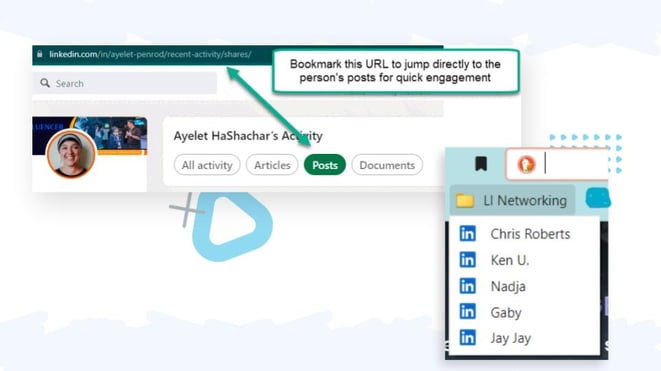 Then every time you're ready to post, take 3 minutes before and after you post to see what 5-10 of your key connections are speaking about and engage on THEIR content in a meaningful way.
Doing this will increase your visibility with these individuals and keep you (and the messaging you represent) more top of mind while also helping establish you as the professional to turn to with a security question - which is one of the goals for security awareness managers, right?
Creating effective security awareness campaigns is just as much about messaging as it is about meeting employees where they are, which is why LinkedIn should definitely be an additional channel in your efforts.
---
Resources
Join our Security Awareness Manager (SAM) Community!
Weekly Virtual Meetups
Community Live Streams
Free Resources & More
Sign up for our email updates at our Manager's Hub
Join the Community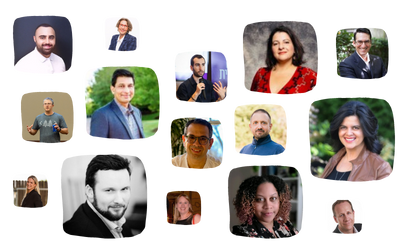 ---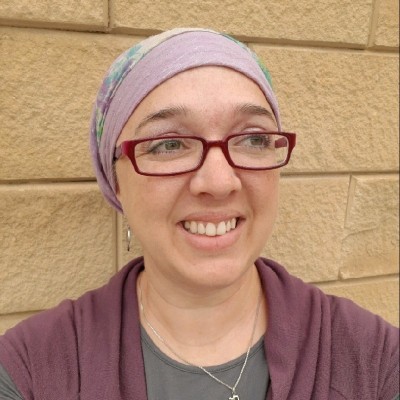 Ayelet HaShachar Penrod
An enthusiastic security awareness advocate as a result of the past two years connecting with and listening to the many passionate voices in cybersecurity as a marketer in the field - that passion rubbed off. Now I'm excited to bring my own awareness learning and perspective to help further Wizer's mission to make security awareness accessible to the individual, the small business owner, the non-profit, the enterprise organization and, well, every one.