Webinar: Breaking Into Cyber Security
Ask a few different Cyber Security professionals how they got into the field and get a few different answers. Google "How to get into the Cyber Security field" and you'll most likely be so overwhelmed by the amount of information that you ultimately end up purchasing the newest Chia Pet off of Amazon and calling it a day.

The whole truth and nothing but the truth
Most people in the Cyber Security industry got into it from different angles. Whether you attend a 2- or 4-year college, obtain certifications, start in an entry level position like the helpdesk, or some combination of all the ways to learn about protecting people and data, the truth is that it is YOUR responsibility.

Getting into this field is challenging. There is no one stop shop for any Cyber Security career. It is an industry that evolves at the speed of light and when it all comes down to it, you have to craft your own path forward...So…

The Million Dollar Question: Degree or No Degree?
You don't need a degree to be in Cyber Security. A degree is helpful to prepare with critical thinking skills, business know-how, and knowledge in a specific field, and could be needed for a C level position. Sometimes it's just a formality and hiring managers have to check a box depending on whether the company requires one.

A lot of pros may even tell you they have a degree in something completely unrelated to technology. There is a lot of crossover in standard disciplines. For example, if you have a degree in Accounting and you change your career to Cyber Security and go work for an accounting firm, you will have an edge in knowing the business in addition to your technical skills.

If you are going into an entry level position, you have to demonstrate knowledge. It could be in a different discipline such as volunteer work, business, or being in the military. Much of the technical knowledge you need for this industry can be obtained through community and experience. Either way, you have to pursue the information! Whether that is in the form of a degree, learning on the job, or through certifications, it's all up to you!
The Do-It-Yourself Cyber Security Career
There are a plethora of resources that are community based to bridge the knowledge gap but it's about where and how people look for the information. Network with others. You also need to research organizations and see what they recognize as qualifications to land a certain position. Start by finding out what your strengths are to come up with a goal.

What Color is My Parachute is a book that helps you to find out who you are and what you are good at. Strengths Finder Assessment is a test of your strengths. These can help you drill down which careers would be good for your personality!

All fields in security are valuable. There is not one that is more badass than the other and it takes all the disciplines to make the Cyber Security Team function. It's not very different than any other field you would try to get into. Wherever you begin and whatever topic you want to get into, it is valuable.

It's all overwhelming - How can I get in?
Let's say you work in a call center. Whatever your job is, be excellent at what you are doing NOW with a great attitude. Find a way to integrate what you are doing NOW into security. Be the person who jumps into the middle of the conversation with security personnel. If a customer calls with a password security issue, bring it up to the security team, maybe be a part of a bigger solution. You will get noticed!

You have to do your own thing. Recruiters are hired by organizations. Headhunters are not going to seek out an entry level person to pivot into a higher role. External recruiters cannot help you. They can give you general knowledge though.

Using social media to your advantage
You don't have to have a ton of followers on social media to get a job, it's more about connecting with people in the industry and finding mentors and sharing information. Start following experts to keep learning and help others along the way!

Now, if you do have a large social media presence, no matter what field you're in, your company could mine that data. Always be careful what you put out there. You are showing the world a version of yourself. Perception is key. If you are big into social media, watch your time and be prepared to explain to your employer how you are still able to give them 100% without being online all day.

It's not all about tech. What about the soft skills?
You need a diverse set of skills in addition to the technology know-how. People and business skills and an insatiable quest and passion for knowledge are equally important. You have to possess a strong drive as the landscape of this profession is always changing. Be humble, willing to grow, get into the critical thinking mindset, and have a willingness to invest in yourself. Realize that everybody has a place in the industry. Be curious.

Finding a mentor
Mentor-mentee relationships can be very powerful, and they are essential in the growing Cyber Security Community. It's nice to have someone in the field that you can talk about ideas, situations, and problem solving with. To find a mentor, find out what your goal is from them. Do you just want to hear their story? Do you want someone to invest their time to help navigate your experience into the industry? What role will you play in the relationship? Yes, that's right...you have a responsibility to your mentor as well.

You have to be persistent in learning to keep up what is going on in the world in order to foster a mentorship. Start by asking someone questions and presenting ideas about getting into the industry. Take their advice. Listen to them. They are spending their time to help you. Be reliable and don't waste the opportunity. You have something to bring to the table as well. Ask them how you can help.

Use the hashtag #MentoringMonday on Twitter created by Tanya Janca. She's started the hashtag for mentors to find mentees, and for mentees to search for mentors.
Feel good thoughts from the pros
Break in! We need more people in the Cyber Security arena! You have a lot to offer! Don't give up! You will be challenged so prove that you can do something and know your "why." Show people you're excited. Volunteer! It is not an easy field, but it is worth it. It is a great industry and if you have a heart to protect people, get in. Every mind and every shape is needed. Be the best at what you are doing and get noticed. Never stop learning.

P.S. We got to see Chris Roberts in a tutu. (and fishnets)

Resources
Women's Society of CyberJutsu - Join a growing network of Cyber Security professionals from around the world. Build your network and help others build theirs. WSC is your tribe of supporters, cheering you on to success.

Bridges in Tech - Tech community for women of color
Breaking Into Cyber Security - Podcast
Moderated by

Wizer's hacker, Chris Roberts!
Panelists:
Renee (Brown) Small - Cybersecurity Super Recruiter | 🎙Breaking Into Cybersecurity Podcast Host | Small Business Owner helping CIOs, CTOs, CEOs hire CISOs + build amazing security teams at Cyber Human Capital

Vicki Gatewood, M. Sc., CISM, CGEIT, CRISC, CSXF, NCA, CCSK, CDPSE - Security Researcher, 2020 Chapter Lead Award Winner. WSC

Robert Turner - IT Director and Information Security Officer at Bronson Healthcare

Taiye Lambo - Thought Leader, Author, Visionary, Pioneer, Serial Entrepreneur, Former CISO, Virtual CISO, Cyber Security Strategist

Anne Marie Zettlemoyer - Cyber Strategist | Board Member | Researcher | Business Security Officer | Vice President, Security Engineering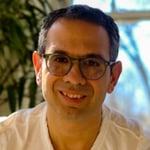 Gabriel Friedlander
I founded Wizer in early 2019 with a mission to make basic security awareness training free for everyone. Since then Wizer has been rapidly growing with over 3000 organization who signed up for our free training. And in 2020 we partnered with several local counties to offer free Citizen Training. We believe that in this day an age, security awareness should be a basic human skill.