A New Phishing SIM Was Born
Spring has sprung and with it, a new Wizer feature was born! Introducing our all new Phishing Simulation with Smart Phishing! Launch your own simulation in minutes to test your team before attackers do.
WHAT MAKES IT SO SPECIAL?
Over 30 new templates to choose from!
It's easier than ever to use!
Emails you can edit!
Content relevant to specific times of the year
Real time reporting dashboard right at your fingertips
More delivery options
Or...jump right in to phish with the new templates here.
SEE IT IN ACTION

Don't take our word for it, check it out!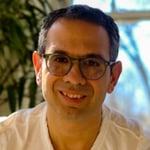 Gabriel Friedlander
I founded Wizer in early 2019 with a mission to make basic security awareness training free for everyone. Since then Wizer has been rapidly growing with over 3000 organization who signed up for our free training. And in 2020 we partnered with several local counties to offer free Citizen Training. We believe that in this day an age, security awareness should be a basic human skill.