Progress reports are a great way to determine the success of your training campaigns. Wizer's reporting tool does all the work for you by providing real time reporting right from your dashboard!
Watch the tutorial video or follow the on screen instructions below.
Accessing Various Reports
CSV downloads are available for most reports. If you see a Download CSV icon, simply click to download the CSV copy. The CSV will show your users' information, progress, and you will be able to sort by department.
Training Progress Reports are available in the dashboard or the training option in your main menu. You will see progress statistics for all of your users and departments for all active training campaigns in one simple report. Click on the Progress Report Button to download a CSV.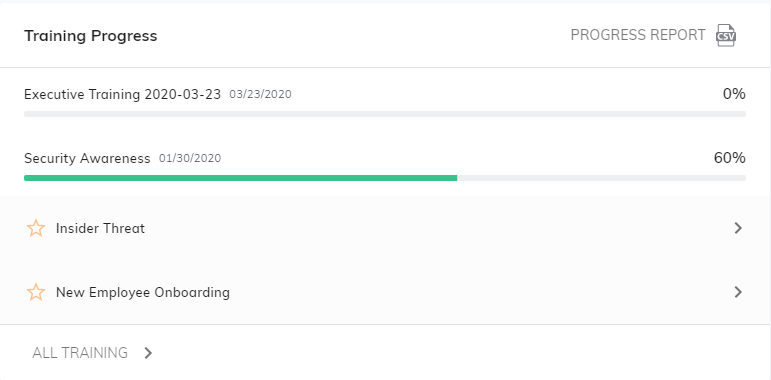 Single Training Campaign Reporting - Click on the campaign in the list from your dashboard. You can sort the report by clicking on the progress field and even look at a summary by department.

Reporting from Within a Campaign - You can also view reporting from inside any campaign itself. Choose a campaign. You can select the progress bar right from any campaign to go straight to the report or by opening the campaign and scrolling past the training.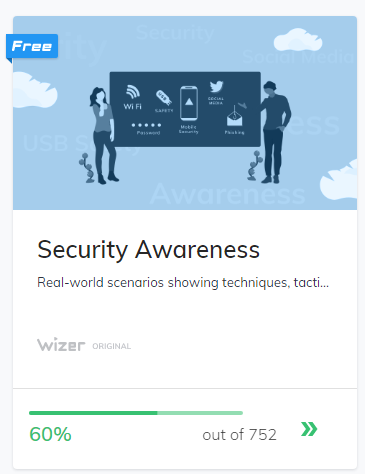 Click on Completed for a list of all users and their progress. Click the Download CSV button to download the report.
Click on Users Not Started for a list of all users who have not started the campaign. You can re-invite them to finish by clicking the checkbox next to each name and clicking on Resend Invite. We will also send reminders for your users to complete training by sending them an email at any time they have three days of inactivity during an active campaign.

Training History - You may have launched our Security Awareness Training multiple times throughout history. Clicking on each instance that you have launched a specific training will provide you progress reports for all users of the campaign.

Quizzing Reporting - What questions are your users failing the most? Find out where your users are having trouble by looking at the questions they are failing the most. This will help your organization determine additional training opportunities.
Phishing Simulation - Test your organization by sending them realistic fake phishing emails in an attempt to deceive them into clicking links to give up their credentials. The results of the phishing test can be used to help the organization gauge the risk and response rate of employees to a phishing attack.

You will be able to see a mini dashboard that shows you how many emails were sent, opened, clicked, and phished. You will also be able to view your company's results by clicking on the history tab. You must activate the simulation to see reporting results.
Gaming Reporting - Click on the Completed or Passed buttons for reports and download the results. You must start the game in order to see results.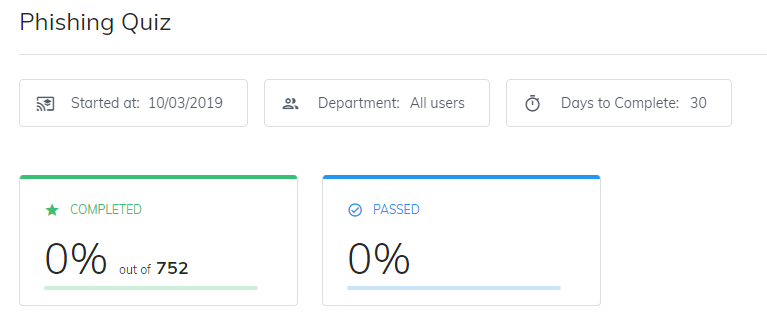 We hope you enjoyed this tutorial and invite you to the wizer academy to enhance your experience!