Setting Up a Phishing Campaign is uncomplicated and fast! It's the perfect way to test your team and identify additional training opportunities by sending them realistic fake phishing emails in an attempt to deceive them into clicking links to give up their credentials.
Watch the tutorial video or follow the on screen instructions below.
Let's Go Phishing!
Setting Up Your Campaign
Click on Time to Phish from the phishing simulation on the homepage.

Go to the Settings tab.

Choose a range of times and your time zone in which emails will be sent.

You can toggle on/off the types of emails that will be sent at random to your users. To preview, simple click on the thumbnail.

Click on the Campaign tab.


Click Setup Phishing and choose your options in the pop up window.

Frequency: Send Now or Schedule (3 months, 6 months, or 1 year)

Deliver to: (Only me, All Users, Departments, Specific Users, Custom)

Custom Option: If you would like to include your company's users in a phishing campaign prior to inviting them to the Wizer training platform, a custom option is available. Please contact support@wizer-training.com for more information!

Whitelist our IPs. Instructions for Office365 and GSuite are available.

Click Start Phishing.
Click Start Campaign.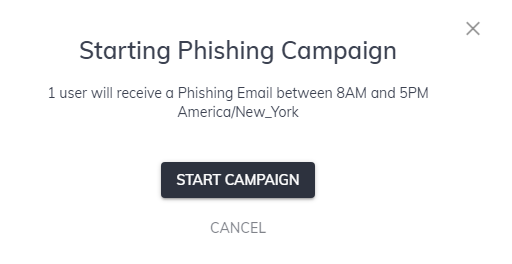 Viewing Results on the Dashboard

On your dashboard, you will see how many emails were:

Sent
Opened
Clicked
Phished

You will also see your User Activity.

Stopping your Campaign
From your dashboard, click Stop Phishing.

Click Complete Campaign on the pop up message to confirm.


Viewing the History
1. Click on the History tab.


2. View the line chart:

Green - Opened
Orange - Clicked
Red - Phished

You can also hover and click on the dots to see a summary.
Frequently Asked Questions About Phishing Campaigns
1. Can I run a Phishing Campaign with my users before I start Wizer Training? Of course! Contact support@wizer-training.com to discuss and set up our Custom option. You will be able to add your users to the campaign without sending them an email invite.
2. Why should I run a Phishing Campaign? Testing your employees this way will help you gage your risk and response rate as well as identify training opportunities for those who may need it.