Wizer offers several convenient ways to add users.
Single Sign On - You can set this up in the settings of your Admin Console. Instructions for both Azure and Okta can be found by selecting either and clicking the links or downloads provided.

HRMS Integration - We also offer an Integration with your HR Management SystemAutomatically add or invite users to the platform whenever a New Hire is added to your HRMS. You can even include a link in communications to your team members so they can get started on training right away! When a user is added or signs up, they are automatcally enrolled in active training campaigns. For more information and to have Wizer integrated with your HR Management System, please contact support@wizer-training.com.

Manual Entry- You can also add users manually by entering email addresses or by doing a bulk upload.
This tutorial will go over exactly how to enter users on your own. Before we get started,The free Security Awareness Training campaign is on by default. If you are not ready to launch training, you will need to end the campaign before adding your users.
Watch the video or follow the on screen instructions below.
1. Click Invite Users from the upper right hand side of your screen.


A pop up will appear with a few options.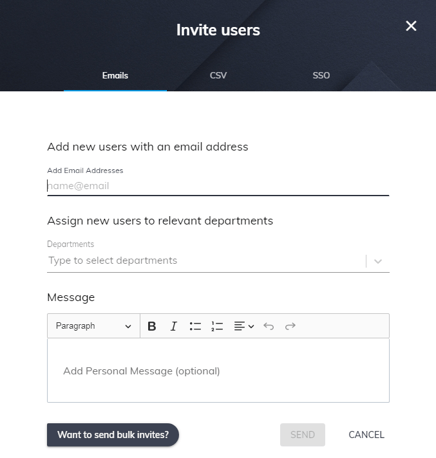 2. To add email addresses manually - Click the Emails tab. Type the email address (separate multiple email addresses with a comma), add a department, create a custom message, and then click Send.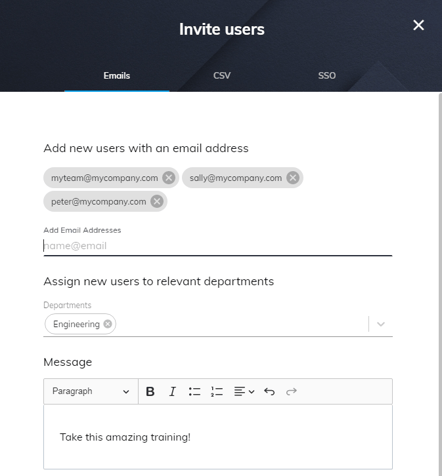 To send bulk invites - Click the CSV tab. You can upload your own CSV file or download a blank template.

To use our template, enter all of the emails and departments and save the CSV file. If the department field is blank, users will show up in "no department" by default.
3. Click Attach CSV.

4. Map the columns of your file to the Email Address Column field and do the same for the Department Column field.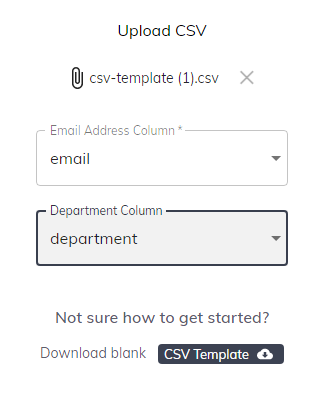 4. Click Upload.

What Happens Next?
You will see a notification that users have been added.

Invites will go to all of your users.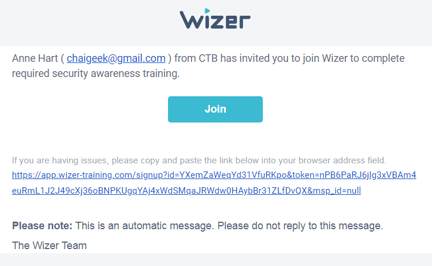 If any emails are invalid or are duplicates, you will get an error message on the bottom of the screen.

Users show up in your All Users list will remain in pending status until they sign up via the email invite. You can also resend the invite by clicking the resend button.

When your user signs up, the pending status will be replaced with their last logon information. they will be assigned any active training campaigns.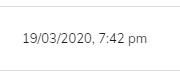 You and the user will be able to update password information and change the department field any time.
Frequently asked questions about Adding Users
I want to use my own CSV file but it doesn't look like your template. Do I have to edit it?
Not at all! When you upload your CSV file, you will only need to map two fields and it doesn't matter what it is named as long as the information matches the mapping.
So, all of my users will get all of the training?
Not quite. Your users would get the training that is assigned to all users or any training that is part of the department for which they belong.